Google Home Mini Tour
The Google Marketing team came to MAS with a major product launch -- a nationwide tour to promote the newly released Google Home Mini. A smaller version of the already-on-market Google Home, the Mini connects you to the world using the voice-activated Google Assistant. "The Size of a Donut, the Power of a Superhero" was the mantra developed by the Google team for this campaign. Through this launch event, MAS needed to unite this small but mighty device to the end user in a fun and memorable way. And so, the store and mobile experience was created, allowing consumers to interact directly with the Home Mini and thereby discover firsthand how this new device was designed to enhance and simplify their lives.

The Google Home Mini Donut Shop was the collaborative brainchild of Google's Events and Experience Team, MAS Event + Design, and the interactive team at Deeplocal. MAS had to create an engaging environment in which each person could pose a question to the voice-activated Mini ("Hey Google, what does a rhinoceros sound like?") and get a response. But not just a response. Everyone also got to take home a special treat that tied directly to the Mini's mantra -- either a donut (from a renowned local gourmet bakery) or a superhero (an actual Google Home Mini device). Deep Local devised a system where the question triggered a conveyor belt to deliver a beautifully designed box to guests. The custom A-frame packaging, designed to look like a house, held either a device or a donut.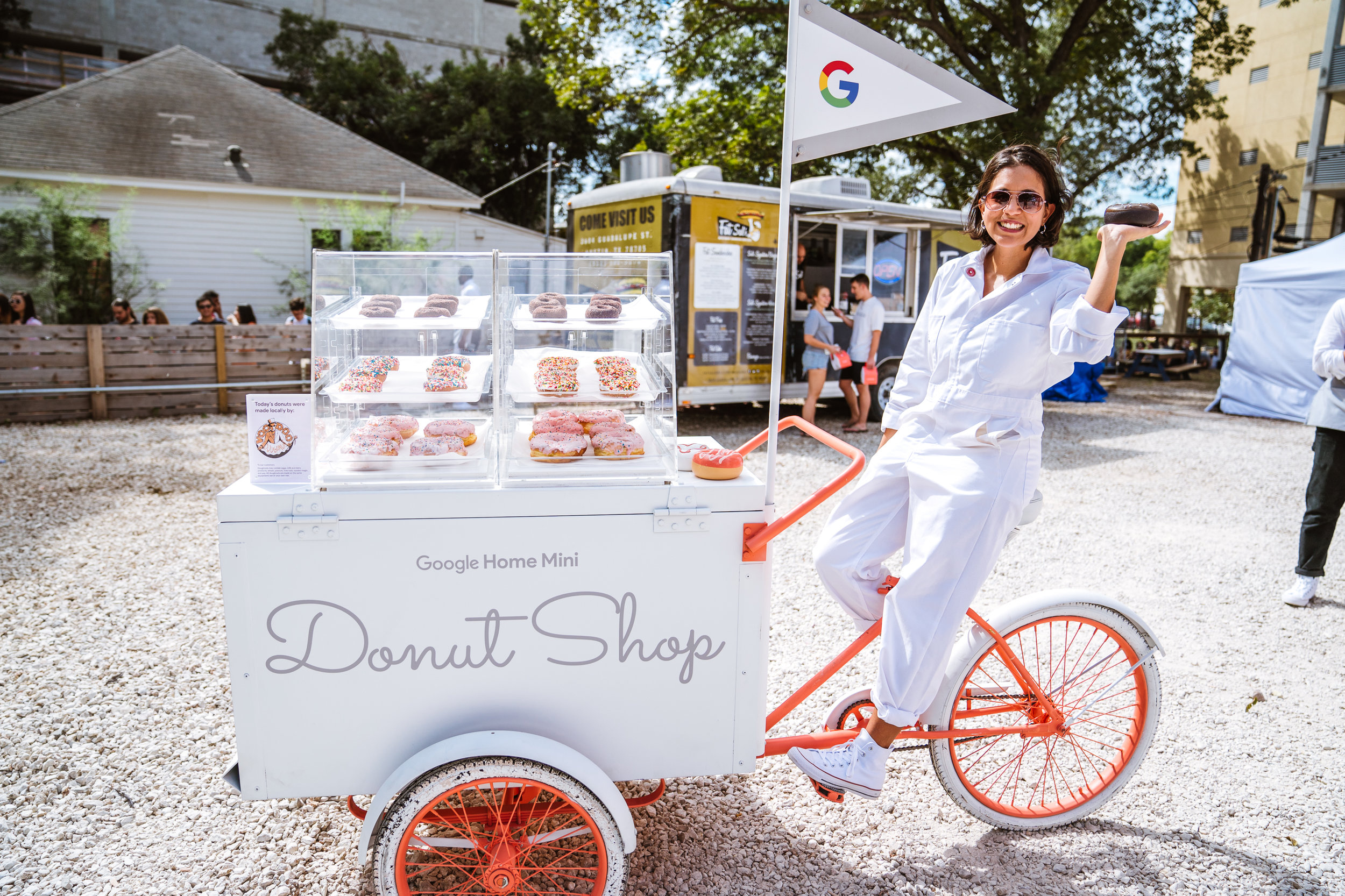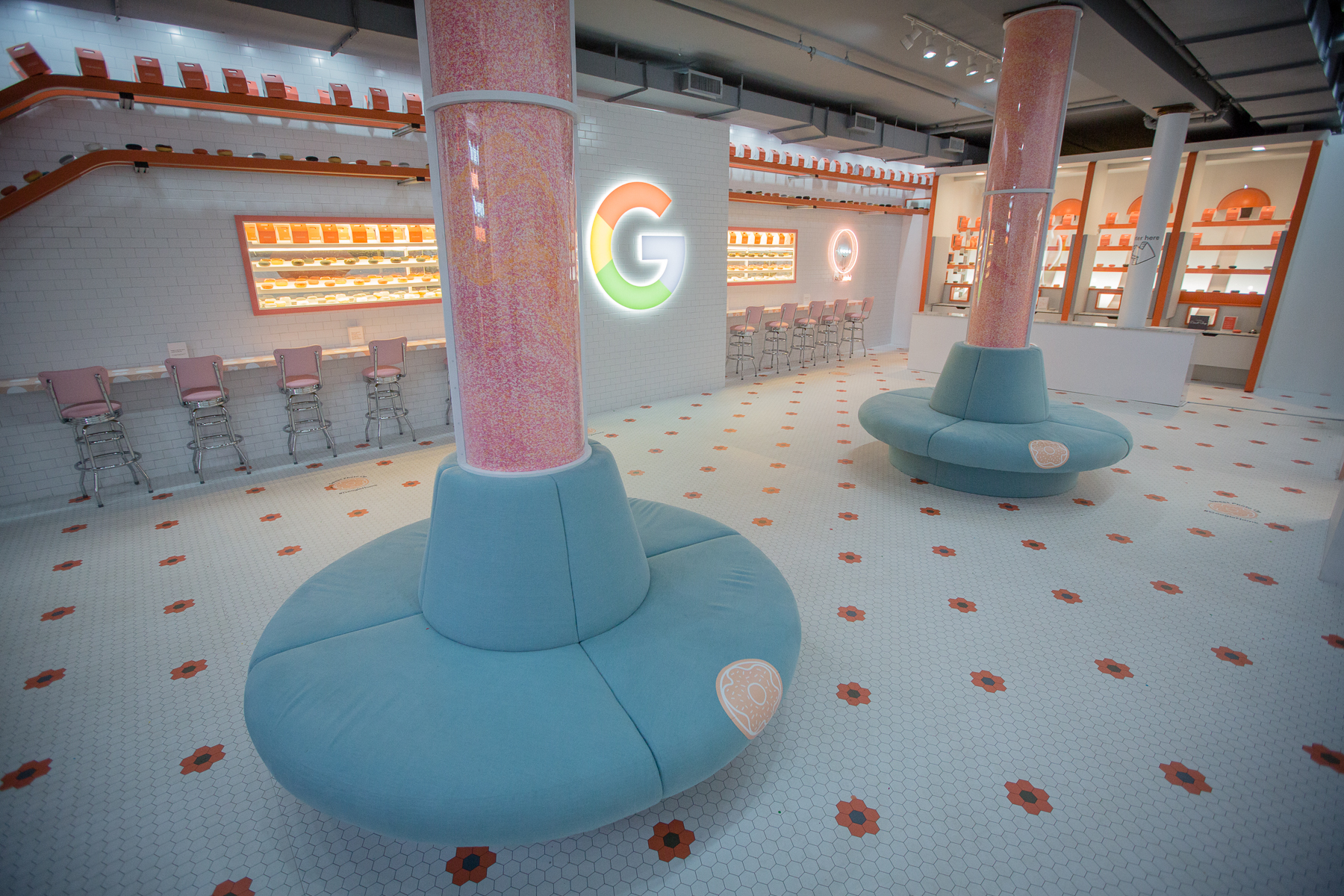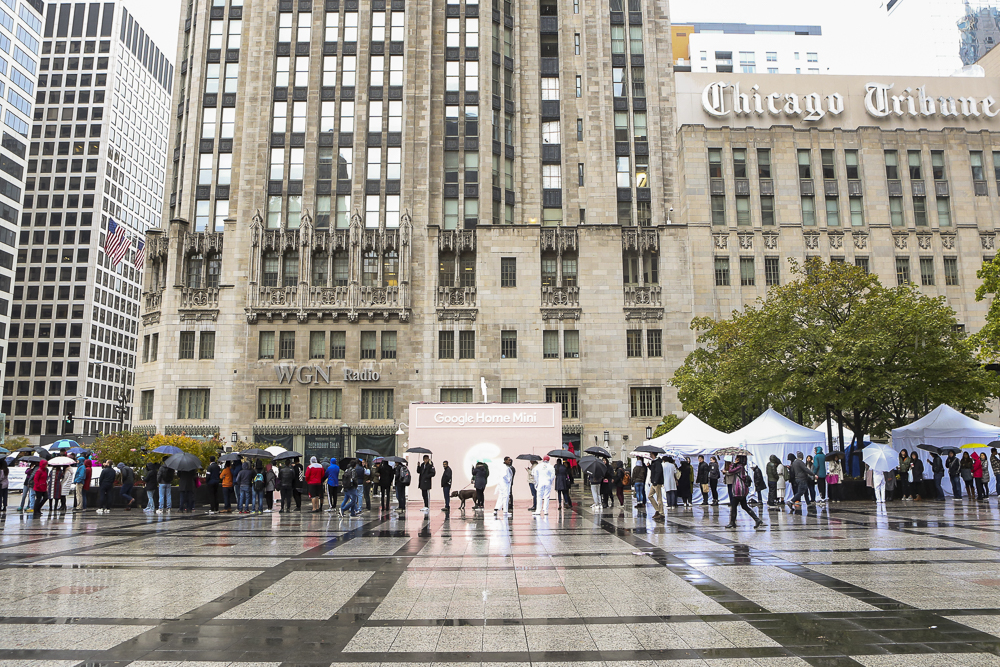 On October 4th, directly following Google's annual product release press event, MAS launched a 12-city "Donut" tour, starting in San Francisco (mobile activation) and New York (a pop-up shop) and then moving into other markets. The tour involved three types of activations: a brick and mortar pop-up, a small VIP truck, and two 26-foot trucks that transformed into pretty patisseries. MAS traveled from Los Angeles to Brooklyn, from Toronto to Indianapolis, from San Francisco to Austin -- and many cities in between. The tour itself was scheduled to end in November but, due to popular demand, was extended through December. Nimbly responding to the new timeline, MAS adjusted the scenic build to highlight the holiday season, including a demo where customers could say "Hey Google, turn on my Christmas tree," and the device would activate the lights of a ten-foot-tall Christmas tree.
The activations were so successful that, on average, 200 people per day were already in line before the shop opened! To meet the high demand, a real-time inventory system was used to keep up with the number of devices and donuts being distributed. In total, 77,000 donuts were devoured and 22,000 Minis were given out. Overall the tour reached more than 51,000 people. The tour was popular on social media too, with 19 million impressions on facebook and 3 million on Twitter. The overall consensus: "This is the happiest place on earth!" Today, the donut project still marches on. These fancy fried treats made an appearance at the pre-Oscars benefit event, the CES Conference, and the Women's Leadership Summit.